The Resilient Entrepreneur – Dr John CHAN Chun-tung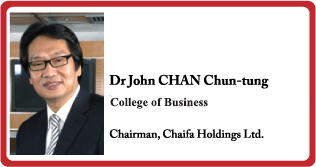 Coming from a family of nine in a cramped squatter settlement, Dr John Chan Chun-tung rose to become chairman of a corporation with 4,000 employees. That's the spirit of entrepreneurship at its best!

Dr Chan is a truly deserving recipient of CityU's First Distinguished Alumni Award.

Establishing Chaifa Investment Ltd as an agent for the "Playboy" fashion label in 1986, he was quickly recognised as an outstanding businessman. The Young Industrialist Award of Hong Kong in 1996 was followed by his being named in the Top Ten Talented Founders of Business in China in 2006.

But Dr Chan's career hasn't always been plain sailing. The Asian financial crisis in 1997 hit him hard, leaving behind debts of HK$300 million. And the SARS epidemic saw his retail business plunge by a massive 90 per cent.

Still, he rode out both crises, making sure that his company could stand tall during the recent global financial tsunami.

Looking back at his time in the CityU Executive Master of Business Administration (EMBA) programme in 2004 and Doctor of Business Administration (DBA) programme in 2006, Dr Chan commented that "the training offered me a new perspective and a more systematic way to get through the challenging times and move forward."

Dr Chan is currently Vice-President of the Hong Kong Economic and Trade Association, and a member of the National Committee of the Chinese People's Political Consultative Conference. He also enjoys sharing his marketing experience and insights with university students from Hong Kong, the mainland and Macau. "Mingling with students makes me feel young," he said, and smiled.

He also provides internships for CityU MBA students at his company in the mainland. "Local students should seize the opportunity to broaden their vision through working in the mainland," Dr Chan emphasised. "Gaining first-hand experience in the booming mainland market helps strengthen their competitive edge."